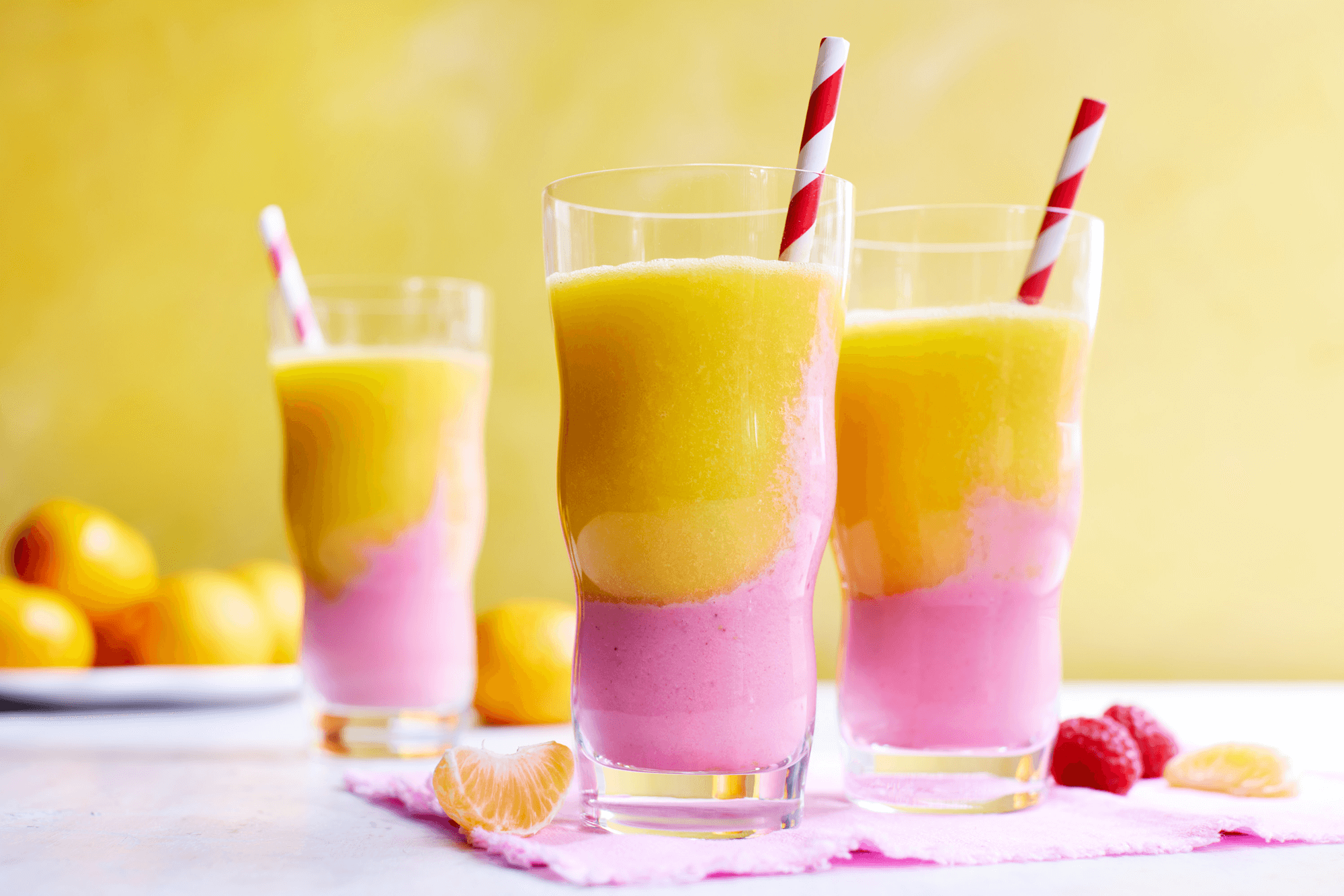 Sammy Smoothie
SAMMY SATSUMAS SUNRISE SMOOTHIE
Here's a drink that I think's rather groovy
It's Sammy Satsumas Sunrise Smoothie
Let's get going, see where we will go
Add banana, berries, mango
It mixes so easy when using a blendour
The end result is magnificent splendour
It's really the simplest feat
So call your friends, they'll be in for a treat
Ingredients:
--The Pink Layer--
1 small ripe banana
100g fresh or frozen raspberries
150ml cranberry juice
4 tbsp natural or fruit yoghurt
--The Orange Layer--
3 satsumas
1 ripe mango
1 small ripe banana
4 ice-cubes
When it's hot Sammy loves to make this smoothie into iced lollies. Instead of using glasses, he will pour each layer into lolly moulds and freeze them for 2-3 hours to make ice-pops. Give it a go, I'm sure you'll love them as much as Sammy does.Not only does this smoothie radiate summer time, it gives a fair amount of natural goodness. Potassium plus vitamin c and the protein from the yoghurt is essential for healthy bones.
Method:
To make Sammy Satsuma's wonderful smoothie you will need to use a blender so do ask an adult helper to do this with you. There are two colourful layers to make which are both very yummy.
First of all, make the pink layer, peel and break the banana into chunks. Drop them straight into a blender. Add the raspberries, cranberry juice and yoghurt. Blend everything together really well until you have a lovely pink smoothie. Pour this into 4 glasses.
Wash out the blender, ready to make the orange layer.
Peel away the skin, and divide the satsuma into segments. Drop them into the blender. Peel and break the banana into chunks, and also add to the blender. For the mango, you may need your adult helper to help. Using a vegetable peeler, slice away the skin then with a small knife, cut the juice mango flesh away from the stone. Throw away the stone and put the mango into the blender.
Add the ice cubes to the blender and blend everything together really well until you have a lovely orange coloured smoothie.
Now, slowly pour this on top of the pink layer and enjoy Sammy Satsuma's favourite sunrise smoothie!